Stor guide: artisterna som släpper album 2018
av Håkan Steen
Madonna, First Aid Kit, Bruce Springsteen, Sarah Klang, Nicki Minaj, Frank Ocean, Rihanna, Migos och My Morning Jacket. Alla har album på gång i år.
Skivflödet är fullt av både giganter och debutanter, såväl bredd som kredd.
Men det är svårare än någonsin att bringa klarhet i när musiken verkligen kommer.
Det rapporteras att vinylen fortsätter öka i försäljning på den amerikanska marknaden. Om kurvorna fortsätter i samma riktning lär den snart gå om cd:n.
Det handlar förstås mindre om att vinylen vinner tillbaka förlorad mark och betydligt mer om att cd:n ligger i dödsryckningar på en marknad där streaming nu totalt dominerar.
Trots det tilltagande plocklyssnandet och de stora spellistornas allt starkare inflytande är emellertid fortfarande albumet den mest populära sortens paketering av musik även i en digital värld.
Tio-tolv låtar på cirka tre kvart – formatet mer än något annat satt av tekniska begränsningar när vinyl-lp:n slog igenom på 50-talet – har visat sig vara ett hållbart koncept. Singlar och ep i all ära men när det kommer till att verkligen sälja in och tydliggöra en ny fas i en artists karriär, såväl konstnärligt som kommersiellt, behövs alltjämt ett så stadigt knippe låtar.
Och det ser ut att bli ännu ett minst sagt späckat albumår. Även om många artister numera är rädda för att ens berätta att de har ett album på gång eller ungefär när det kommer att släppas. För det gäller att vara så flexibel som möjligt när vägen från studion till lyssnarna är kortare än någonsin och konkurrensen om streamingkronorna stenhård.
Listan nedan är således garanterat inte komplett. Vi lär tveklöst få ett gäng överraskningssläpp och kan nog även räkna med att vissa av dessa skivor dröjer till nästa år. Men så här ser det ut just nu. Och mycket, inte minst vad gäller de största internationella akterna, bygger på ledtrådar – som intervjucitat, hintar i sociala medier, avslöjanden om kommande turnéer (tämligen få artister åker ut och spelar utan att ha ny musik med sig) – snarare än officiella bekräftelser.
Bruce Springsteen har till exempel börjat prata lite mer om det lågmälda singer-songwriter-album med influenser från soft 70-talspop à la Burt Bacharach, Glen Campbell och Jimmy Webb som legat klart länge. I höst när Broadway-sejouren är över kan det mycket väl vara dags.
Madonna har ägnat senaste året åt att vara "soccer mom", men sade nyligen att hon börjat resa runt och leta influenser till ny musik igen.
Frank Ocean avslöjade på Tumblr att det finns ett album klart, för att nyligen lägga ut en bild på en kille i keps med texten "If you liked 2017, you'll love 2018". Här spekulerar vi förstås lite men med tanke på hur mycket Frank vi fick i fjol är det inte svårt att tolka som annat än att det albumet kommer i år.
Seinabo Sey lär se till att det finns en ny skiva ute innan hon för första gången håller konsert på Globen i oktober.
Och då Refused lade ut bilder från studion i höstas kan vi nog räkna kallt med en platta från Umeås hardcoregiganter också.
I övrigt är det antingen klart eller högst troligt att det kommer nya album från stjärnor som Justin Timberlake, Nicki Minaj, Avicii, Drake, Florence + The Machine, Ariana Grande, Lady Gaga, Paul McCartney, Muse, Rammstein, Rihanna och Kanye West. Liksom heta nykomlingar som Post Malone och Cardi B.
Själv ser jag inte minst fram emot debuten med svenska Sarah Klang, nya skivor med hiphopinnovatörer som Migos och Rae Sremmurd, gamla favoriter som My Bloody Valentine, My Morning Jacket och David Byrne liksom släpp från Kacey Musgraves, Thåström-projektet Sällskapet, Joel Alme, Courtney Barnett, Jenny Lewis, Missy Elliott och Grimes. Med flera, med flera.
Samt, förstås, nya albumet med något av det bästa vi har i Sverige, First Aid Kit. Deras "Ruins" recenserar vi redan nästa fredag.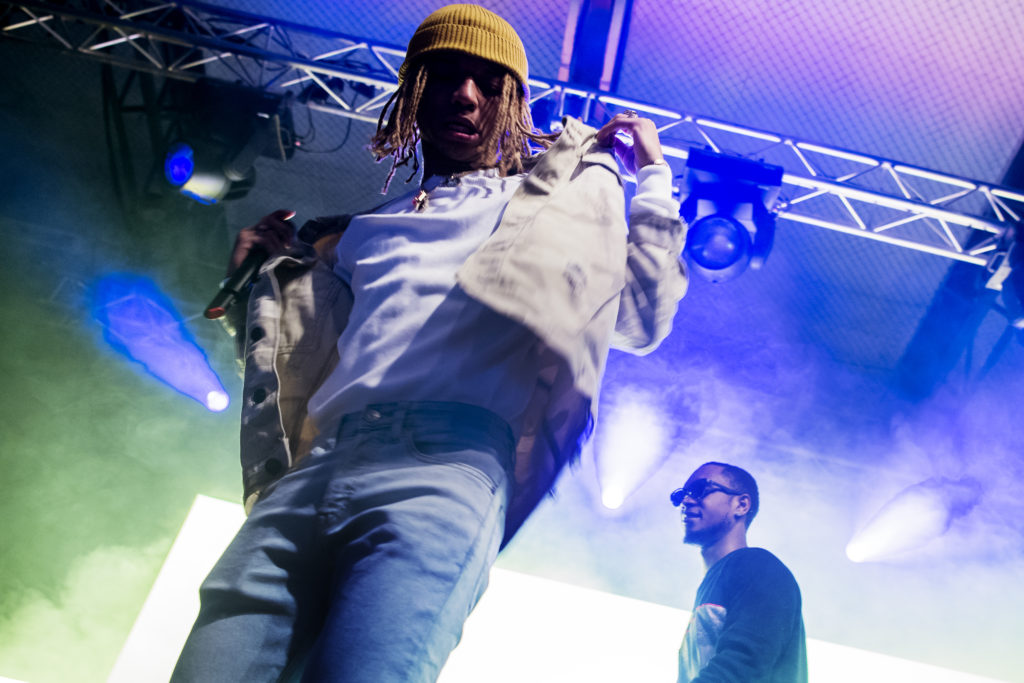 JANUARI
A Grave With No Name, Above & Beyond, Accuser, Ammouri, Ammunition, Anvil, Arkona, Arrows Of Love, Autopsy, Bahamas, Bandhunta Izzy, Behemoth, Laura Benitez & The Heartache, Black Label Society, Black Rebel Motorcycle Club, Black Veil Brides, Cadence Weapon, Calexico, Phil Campbell And The Bastard Sons, Closer, Club 8, Hollie Cook, Shawn Colvin, Corrosion Of Conformity, Cupcakke, The Dangerous Summer, Craig David, Devin Dawson, De Lux, Deadheads, Django Django, Dream Wife, Anderson East, Easy, Tommy Emmanuel, Evil Warriors, Exorcist Gbg, Fall Out Boy, Fire!, First Aid Kit ("Ruins", 19/1), Nils Frahm, Jeffrey Gaines, Ron Gallo, Mary Gauthier, Glassjaw, The Go Getters, The Go! Team, Nathan Gray, Beth Hart & Joe Bonamassa, Glen Hansard, Heavy Load, Henning, Cane Hill, Nick JD Hodgson, Hollysiz, Holy, Jaguwar, Keno, Lanco, Leyya, Loudness, Alexander Lövmark, Machine Head, Magnum, Marmozets, Maxo Kream, Jono McCleery, HC McEntire, Umphrey's McGee, Migos ("Culture II"), Ben Miller, Mimicking Birds, Moon Taxi, Mopo, Mudhoney, Mäbe, Nightmares On Wax, No Age, John Oates, Of Mice & Men, One Week Notice, Ryan O'Reilly, Orphaned Land, Panda Bear, Meghan Patrick, Perfect Beings, Joe Perry ("Sweetzerland manifesto"), The Poodles, Porches, Mike Posner, Rae Sremmurd ("Sremmlife 3"), Raised By The Internet, Eero Rannio, Jeff Rosenstock, Rosetta, Dusty Rust, Salad Boys, Joe Satriani, Ty Segall, The Shins, Shitkid, Shopping, Skids, Justine Skye, Sleeping Giant, Caitlyn Smith, Spice Boys, The Spook School, Rick Springfield, Starcrawler, Steep Canyon Rangers, Bo Sundström ("Mitt dumma jag – svensk jazz", 26/1), They Might Be Giants, Tonight Alive, Tribulation, Tune-Yards, Turin Brakes, Typhoon, Ugly Valley Boys, Warlocks, Waterparks, Van William, Witchcryer, The Xcerts
FEBRUARI
Poppy Ackroyd, American Nightmare, Laurie Anderson & Kronos Quartet, Tomas Andersson Wij ("Avsändare okänd", 16/2), Angra, Animal Drive, The Atlas Moth, Awolnation, Band-Maid, Bat Fangs, Belle & Sebastian, The Bellrays, Julie Bergan, Sarah Blasko, Ruby Boots, Born Ruffians, Wade Bowen, Brian, Don Broco, Anna Burch, S Carey, Brandi Carlile, Pearl Charles, Caleb Caudle, Car Seat Headrest, Chemtrails, Cowboy Junkies, Kyle Craft, Dabrye, Darlingside, Dashboard Confessional, Diverse artister "Black Panther: The Album" (soundtrack med Kendrick Lamar m fl), Diverse artister: "Fifty shades freed" (soundtrack med Liam Payne, Ellie Goulding, Sia m fl), David Duchovny, Dukes Of The Orient, Dwarves, DZ Deathrays, El Perro Del Mar (lång ep), Eleine, Escape the Fate, Brian Fallon ("Sleepwalkers", 9/2), Feed The Rhino, Field Music, Fischerspooner, Franz Ferdinand ("Always ascending", 9/2), Fu Manchu, Ezra Furman, Geowulf, Amanda Ginsburg, Go-kart Mozart, Good Tiger, Harm's Way, Heavatar, Holy Motors, Hookworms, Maritza Horn, Howlin' Sun, James Hunter Six, Nipsey Hussle, I'm With Her, Ignore The Sign, Imperial State Electric ("Anywhere loud", 16/2), Ionnalee, Janice ("Fallin' up", 2/2), Erik Jeor, Joan As Policewoman, Vance Joy, Sarah Klang ("Love in the milky way", 9/2), Kodak Black, Laissez Fairs, Mélissa Laveaux, Legend Of The Seagullmen, Letters From The Colony, Lo Moon, Loma, Long Distance Calling, Paul Luc, Jonas Lundqvist ("Affärer", 23/2), Janiva Magness, John Mayall, Marion Meadows, Efrim Manuel Menuck, Al Di Meola, Mike & The Moonpies, Laura Moisio, Dallas Moore, Montero , Rae Morris, Neal Morse, Kacey Musgraves ("Golden hour"), Naiivi, Nebula, Necrophobic, Arvid Nero, The New Spring, Danielle Nicole, Nightcrawlers, Shannon Noll, Ought, Outshine, Palm, Courtney Patton, Grant-Lee Phillips, Pianos Become The Teeth, The Pilot In You, Poliça & Stargaze, Pop Evil, Natalie Prass, Red River Dialect, Reggie And The Full Effect, Revertigo, Rhye, Caroline Rose, Rumahoy, Ryuichi Sakamoto And Alva Noto, Salem, Saxon, Screaming Females, Senses Fail, Shiraz Lane, Simple Minds ("Walk between worlds", 2/2), Slowgold ("Mörkare", 23/2), Sonny Smith, The Soft Moon, Son Lux, Ellen Sundberg, Sunwatchers, Superchunk, Uno Svenningsson ("Andras sånger", 2/2), The Temperance Movement, Tenger Cavalry, Therion, Thundermother, Thy Antichrist, Justin Timberlake ("Man of the woods", 2/2), Turbonegro, Turnstile, David Urwitz, US Girls, Visigoth, Visions Of Atlantis, Johanna Warren, We Sell The Dead, We Were Sharks, Jim White, Wild Beasts, JD Wilkes, Marlon Williams, The Wombats, Young Jesus
MARS
Morten Abel, Anal Thunder, Andrew WK, Courtney Marie Andrews, Joan Baez, Charlie Barnes, Barren Earth, The Beat, The Breeders, Buffalo Tom, David Byrne ("American utopia", 16/3), Camp Cope, Ashley Campbell, Casey, Creep Show, Lucy Dacus, Earthless, Editors, En Vogue, Exodus, Familjen ("Kom", 2/3), Fanny Walked The Earth, Fickle Friends, George Fitzgerald, The Fratellis, Gengahr, Myles Goodwun, Grant, Guided By Voices, Gwenno, Hey Elbow, Holy Motors, Holy Now, Jiha Park, Durand Jones & The Indications, Judas Priest ("Firepower", 9/3), Kimbra, Hayley Kiyoko, Vivian Leva, Myles Kennedy, Sean Kuti & Egypt 8, The Levellers, Lissie, The Magic Gang, Scotty McCreery, Mimikry, Ministry, Moaning, Moby, Monster Magnet, Naked Giants, Nap Eyes, Oceans Of Slumber, Kim Richie, Rick Parfitt, Axel Rudi Pell, Pestilence, Michael Schenker Fest, Calum Scott, Frida Selander, Lisa Stansfield, Stone Temple Pilots, Suicidal Tendencies, Superorganism, Suuns, Sällskapet, Tax The Heat, Titus Andronicus, Rolo Tomassi, Trummor & Orgel, The Vaccines, Anna von Hausswolff ("Dead magic", 2/3), Dean Ween Group, W.E.T., Jack White ("Boarding house reach", 23/3), Kim Wilde, Jenny Wilson ("Exorcism", 23/3), Jonathan Wilson, Yo La Tengo, Young Fathers
APRIL
Amazing, Eric Church, Godsmack, Kajsa Grytt, Sofia Härdig, LA Salami, Stephen Malkmus And The Jicks, Manic Street Preachers ("Resistance is futile", 4/4), Wendy McNeill, Tom Misch, Månskensbonden, Plan B, Rainbow Kitten Surprise, Cosmo Sheldrake, Shinedown
MAJ
Belly, Echo & The Bunnymen, Gaz Coombes, Petter ("Lev nu/Dö sen"), Charlie Puth ("Voicenotes"), Remember Sports
UNDER VÅREN
Steve Angello, Courtney Barnett, Bastille, James Bay, Björk (liveversion av "Utopia"), Cardi B, Toni Braxton ("Sex & cigarettes") Julian Casablancas & The Voidz, Charli XCX, Culture Abuse, Dear Nora, Dimmu Borgir, Elias, Ghost, Hardcore Superstar ("You can't kill my rock'n'roll"), Jon Hopkins, Jauz, Kayzo, Kississippi, Le Galaxie, Ashley McBryde, Nicki Minaj, Rita Ora, Liam Payne, John Prine, The Prodigy, Molly Sandén, Serpentwithfeet, Troye Sivan, Tove Styrke, Owl City
UNDER ÅRET
The 1975 ("Music for cars"), A Perfect Circle, Christina Aguilera, All-American Rejects, Alice in Chains, Lily Allen, Joel Alme, Anne-Marie, Antemasque, Arctic Monkeys, A$AP Rocky, At The Gates, Daniel Avery, Avicii, Iggy Azalea, Sara Bareilles, Travis Barker, Baroness, Beyoncé & Jay-Z (obekräftade uppgifter om ett gemensamt album), Black Futures, James Blake, Blanche, The Black Madonna, Blitzkrieg, Blood Orange, Boy George, Boyzone, Breaking Benjamin, Brockhampton, Danny Brown, Børns, John Cale, Cher, Chic, Childish Gambino, Chromatics, Chromeo, Chvrches, Clean Bandit, Frankie Cosmos, Crime Mob, Culture Club, Cypress Hill, Deafheaven, Dear Rouge, Death Cab For Cutie, DeJ Loaf, Devildriver, Diddy ("No way out 2"), DJ Premier, Celine Dion, The Distillers, Drake, Eartheater, Echosmith, Elisa, Empress Of, Father John Misty, Sky Ferreira ("Masochism"), Five Finger Death Punch, FKA Twigs, Florence And The Machine, Flying Lotus, Lita Ford, Foxing, Dillon Francis, Selena Gomez, G.O.O.D Music, The Good, The Bad & The Queen, Gorillaz, Ariana Grande, RL Grime, Grimes, GZA, Ella Henderson, High on Fire, Hop Along, Horrendous, Hot Snakes, IAMDDB, Iceage, The Internet, Interpol, J Hus, Carly Rae Jepsen, Jungle, Kamaiyah, Wiz Khalifa, Killswitch Engage, Nina Kinert, KMD, La Dispute, Lady Gaga, Lali, Avril Lavigne, Swae Lee, Les Thugs, Jenny Lewis, Jennifer Lopez ("Por primera vez"), Loretta Lynn, Mad Gibbs, Madeon, Madonna, Major Lazer ("Music is the weapon"), Post Malone ("Beerbongs & Bentleys"), Maluma, Johnny Marr, Paul McCartney, Megadeth, Hailu Mergia, Metal Church, MGMT, Kylie Minogue, Missy Elliott, Mitski, Modest Mouse, Janelle Monáe, Rae Morris, Mothers, Mount Eerie, Muse, My Bloody Valentine, My Morning Jacket, Nile, Nonono, Nothing, Ed O'Brien, Frank Ocean, The Offspring, Ozzy Osbourne, Pale Waves, Owen Pallett, Panic! At The Disco, Parquet Courts, Laura Pausini, Peace, Kim Petras, Phife Dawg, Pistol Annies, Portal, Possessed, Pusha T, Quasimoto, Rammstein, Ray BLK, Refused, Chris Reimer, Remy Ma, Bebe Rexha, Rihanna, Zack de la Rocha, Rudimental, Saintseneca, Sam Hunt, Schoolboy Q, Travis Scott, Lorenzo Senni, Seinabo Sey, Skyzoo, Snail Mail, Soccer Mommy, Sophie, Speedy Ortiz, Spiritualized, Bruce Springsteen, Sebastian Stakset, Stefflon Don, Stimulator Jones, Stryper, Sunflower Bean, Earl Sweatshirt, The Sword, TI, That Dog, Thirty Seconds To Mars, Tinashe, Louis Tomlinson, Tool, TR/ST, Tanya Tucker, Yves Tumor, Twenty One Pilots, Ty Dolla $ign & Jeremih, Kali Uchis, Youth Code, Vampire Weekend, Sharon Van Etten, Voivod, Weezer, Kanye West ("Turbo graft 16"), Westside Gunn & Conway, Charlotte Day Wilson, Alison Wonderland, The Wrens, Wye Oak, Yucky Duster, Zayn
Reservation för ändringar.
STOR LISTA: 99 BÄSTA LÅTARNA 2017